We are pleased to announce that we have forged a strategic alliance with eMedia Monitor.
eMedia Monitor is an Austrian technology company, that offers a robust, high quality coverage of 24/7 real-time broadcast content worldwide. The company uses its proprietary technology to provide their customers with the widest range of Radio and TV monitoring services globally.
Our team was particularly impressed by the capability of eMM to cover and process the Middle Eastern languages, apart from the main European languages.
Why this partnership has great value for our clients and us?
Our customers' ability to collect insights about of their audiences is only as good as the coverage and tools we provide them.
Since Sensika started back in 2012, the founder team aimed to develop a powerful analytical platform that turns content into valuable knowledge on the most critical aspects of any organization – its products, services, polices, initiatives, speakers, clients, campaigns, brand, image and competitors.
And this is where the carefully selected partner – eMedia Monitor, comes in. eMM is giving us the capability to access, process, analyse and manage high-value 24/7 real-time TV and Radio content from the Middle East, Europe, UK, North America, Russia, North and South Africa, Far East and Australia.
Tracking down online, social, print media, TV and radio – all in real-time helps us to get the widest coverage of multimedia brand mentions on the market.
Online media channels are most used, but not the most trusted anymore.
As Vassil Velichkov, CTO and co-founder of Sensika puts it – "Since 2016, with the Brexit, US elections, Cambridge analytica scandal, the various data privacy issues, the trust in Social is in a sharp decline. It is still the most used media because it is so easily accessible. But it is not the most trusted one anymore. Especially publicly listed companies grow increasingly frustrated with the fake news and all the opinions presented as facts that spark in social media and wipe out billions of their market value overnight. This is why they look for alternative trusted channels to spread their messages first-hand. Sensing this trend, we bet on Broadcast and particularly – TV, to reinstate its authority within the users. This is why we have put a substantial effort in 2018 to position ourselves in the best possible way in the anticipation of an upcoming shift. We scouted the space for available options and we have chosen the company that would best satisfy our requirements for coverage and technical proficiency – eMedia Monitor."
We do not underestimate the Broadcast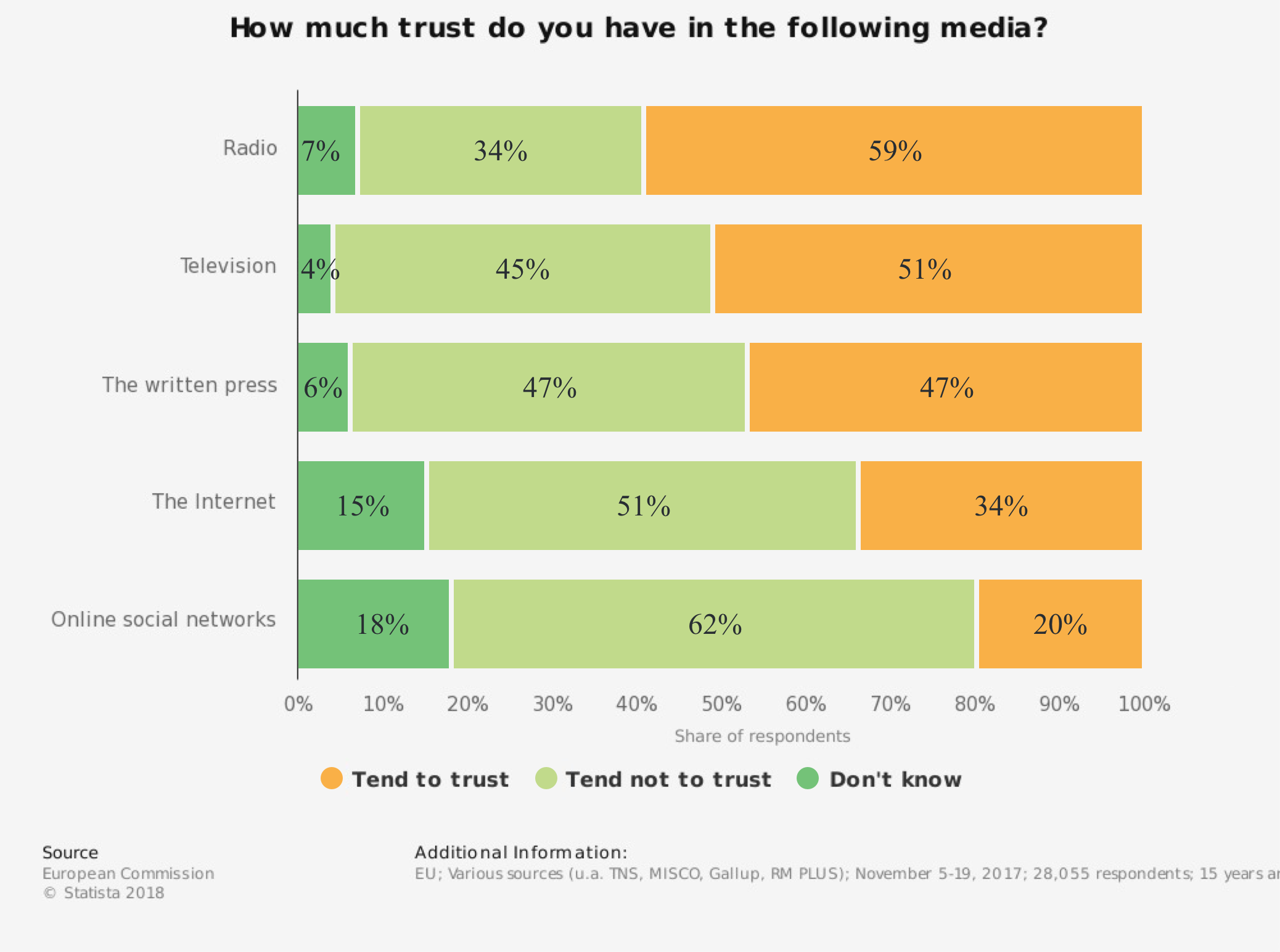 In the last few months, we have received many requests for monitoring of specific broadcast media from our customers and government institutions and we are not surprised. Statistics about the level of trust in the media in the European Union shows that traditional media has a strong influence on public opinion.
Sensika has integrated with other broadcast data providers in the past and we had a positive experience. But they lacked in one point that is critical for us at Sensika – the ability to quickly react to our customers' needs when it comes to coverage. In this point, eMedia Monitoring is truly outstanding!
Today we are proud that we can get access to eMedia Monitor's content from 2500+ radio and TV channels from more than 65 countries in multiple languages, including but not limited to English, Spanish, French, German, Arabic and Russian. This massive coverage efficiently supports Sensika as a provider of actionable insights on a global scale.
Through the cooperation of Sensika and eMedia Monitor our clients gain access to the best broadcast monitoring content worldwide. The combined efforts of both companies will have a great impact on the customer experience and satisfaction.