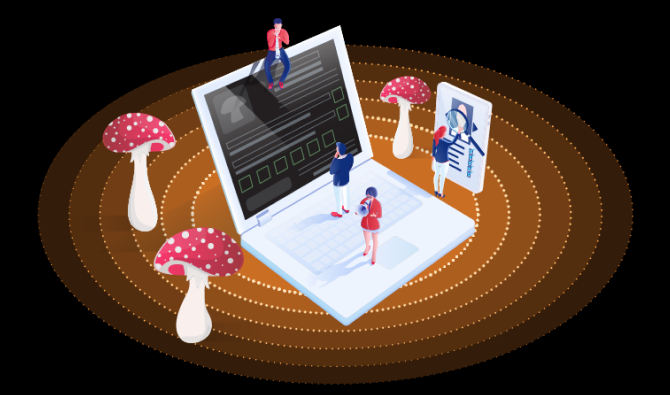 Disinformation Database
Staying ahead of the digital curve, Sensika tirelessly curates an extensive database of potential disinformation sources – news sites, mushroom websites, controlled influence networks, blogs, Facebook pages, Twitter accounts, and Telegram channels.
Our solution integrates this data, enriching it with actionable meta-data like location, publishing patterns, and credibility metrics. Sensika transforms complex data into insightful, easy-to-navigate content, giving you the power to effortlessly monitor, analyze and report disinformation activity.
Book a meeting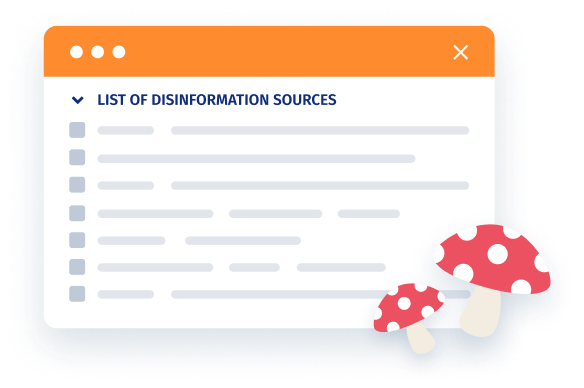 The Role of Artificial Intelligence
Sensika revolutionizes disinformation detection with its cutting-edge AI models, expertly designed for automated discovery and classification of disinformation sources and narratives.
This blend of innovation and technical proficiency sets Sensika apart, making it one of the most highly effective tools for global disinformation detection.
Book a meeting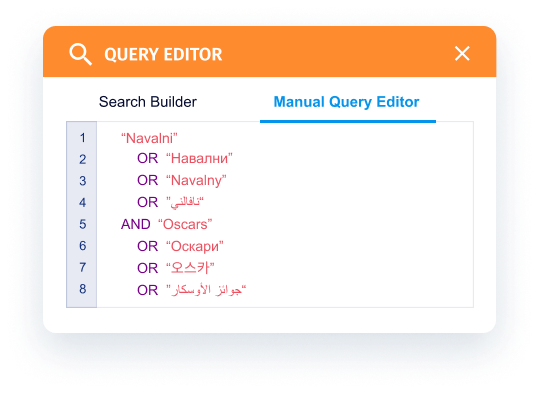 Global Cross-Language Response
Sensika offers a powerful platform that stands out by identifying disinformation narratives in their original language, then updates taxonomies and search queries across multiple other languages.
This unique approach enables automatic knowledge propagation, providing a significant head start for our partners.
With Sensika, you're equipped to combat disinformation narratives even before they emerge in various languages.
Book a meeting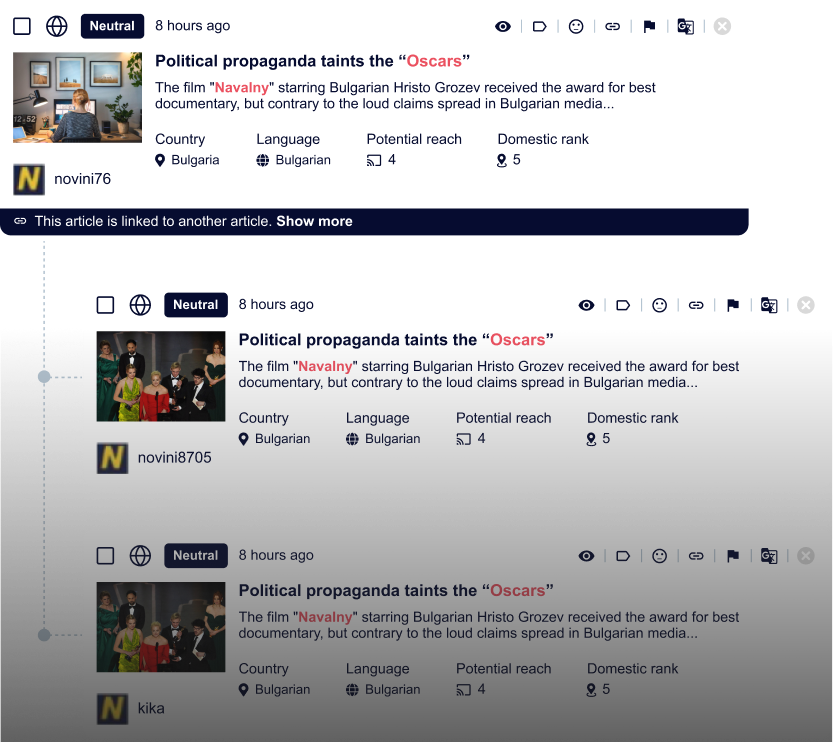 Disinformation Narratives
Sensika remains vigilant, persistently tracking emerging, ongoing, and legacy disinformation narratives across various markets or specific regions.
Further enhancing your experience, our system provides customizable filters, allowing you to effortlessly sift through, dissect or delve deeper into narratives of particular interest.
With Sensika, you gain precision control over the information that matters most to you.
Book a meeting
Disinformation Monitoring & Analysis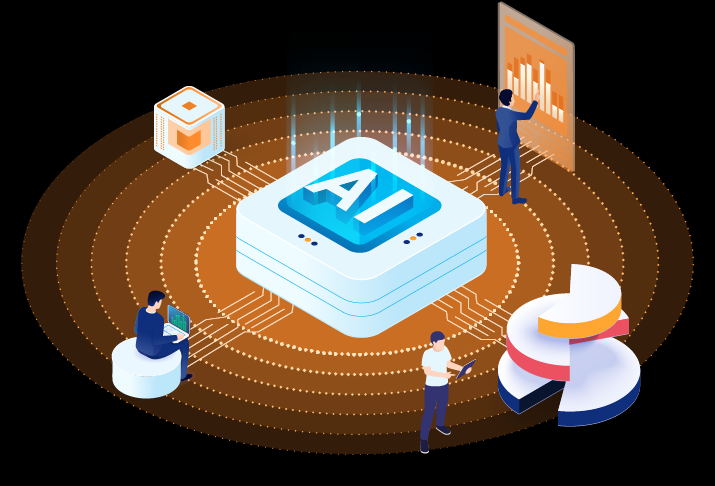 The Role of Human Intelligence
Sensika embraces the synergy between artificial and human intelligence to elevate your disinformation detection capabilities.
Our platform allows for human tagging of disinformation stories, harnessing the expertise of in-house and external professionals skilled in disinformation discovery methodologies.
This unique blend of AI and human insight deepens the analysis, enhancing the quality of results and boosting the usability of the insights garnered. With Sensika, you harness the best of both worlds.
Book a meeting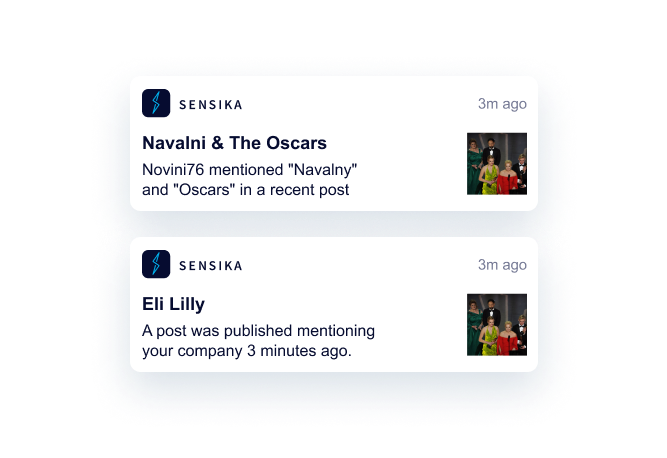 Instant Disinformation Alerts
Sensika empowers you with real-time updates, diligently capturing every disinformation signal or trend change across various channels of interest.
Our automated alerting system ensures you're always in the know, immediately sending email notifications and mobile app alerts.
With Sensika, you gain instant awareness, keeping disinformation at bay.
Book a meeting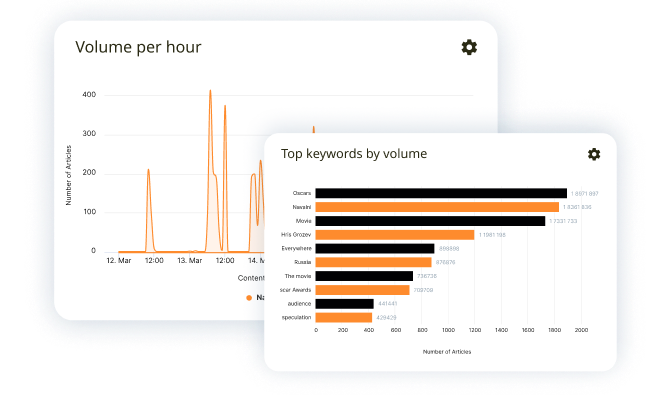 Measure all Aspects of Disinformation
Sensika's robust SaaS platform gives you the ability to gauge the influence of any disinformation campaign you're tracking.
We provide comprehensive insights into both qualitative and quantitative impacts of its publications – from sources and languages to locations, audience demographics, referring sources, and social channels.
Sensika equips you with a complete understanding, ensuring nothing slips through the cracks.
Book a meeting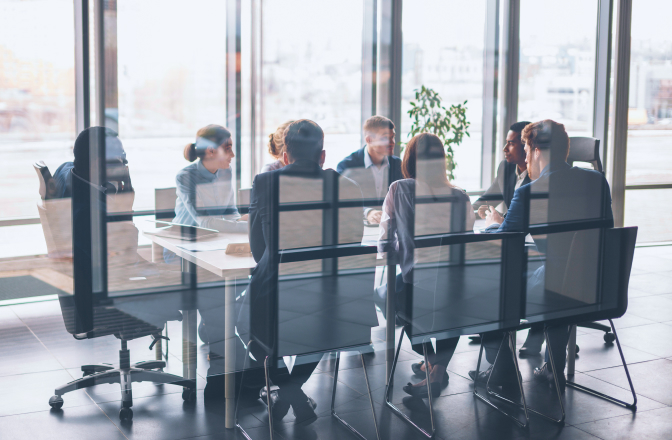 Consulting
Backed by an experienced team skilled in disinformation discovery, classification, monitoring, and countering, Sensika brings a wealth of knowledge to both the commercial and public sectors.
Our experts are ready to guide you through disinformation countering challenges, offering solutions tailored to strategic policies, global, continental, and regional agendas, conflicts, and commercial disinformation.
With Sensika, you're not just adopting a tool; you're gaining an adept and experienced partner in navigating the disinformation landscape.
Book a meeting
А Universal Threat
We know how harmful disinformation could be both for the public and the private sector and we have crafted fine-tuned strategies for disinformation detection and analysis for customers in both domains.